Gokyo Lakes is a collection of five frozen lakes at the lap of the Mahalangur Mountain Range. It is five freshwater lakes that feature the alpine tundra climate conditions in the surroundings. It comprises the lakes of Gokyo Cho (Dudh Pokhari), Thonak Cho (the largest), Gyazumpa Cho, Tanjung Cho, Ngozumpa Cho, and Longbanga Cho. While these lakes come with immense natural beauty and attraction, it has been one of the major destinations in Nepal for global trekkers. Besides the frozen lakes, the site still is a better viewpoint for watching the majestic mountain peaks in the north. Peaks like Mount Everest, Ama Dablam, Nuptse, Lhotse, and Cho Oyu can be seen from here, while the tundra vegetation gives you the vibes of Antarctica for some reasons. But do you need a guide for Gokyo Lakes? With these extreme climates and routes, Gokyo Lakes is challenging to access, so we need professional guides for Gokyo Lakes. Here are some reasons why. Let's explore!
Do You Need A Guide For Gokyo Lakes?
Yes, you need a guide for the Gokyo Lakes trek. And there are several reasons to hire them during your trek to Gokyo Lakes, one of the major attractions in the Everest Region. The first thing is your safety and security. If you do not want to get lost in the remote trails of the Everest region, it is a wise idea to hire a professional guide. Similarly, other reasons like emergency support, aid in cross-cultural activities, and more.
On top of that, there is one important reason to hire a guide for Gokyo Lakes. Nepal Government and Nepal Tourism Board have made it mandatory to hire guides for trekking in Nepal. So, you must also hire a professional licensed guide for this trek. The law passed by Nepal Government in late May states that anyone willing to travel solo to remote destinations inside the nation [Nepal] is not allowed. Instead, they can hire an experienced guide to help them.
The law came to its effectiveness on April 1, 2023. The main reason to have this law implemented is to ensure trekkers' safety during the journey. Since Gokyo Lake is located in the remote Everest Region, reaching there is very challenging and even requires technical skills. The trail is long, and the package is multi-day, so many trekkers went missing and got lost on the way, leading to several mishaps. And if trekkers would go injured on the way, they are out of any emergency health support and evacuation. So to avoid all these issues, Nepal Government and Nepal Tourism Board came hand in hand to implement the law of hiring professional guides for trekking in Nepal.
Why Do We Need Guides For Gokyo Lakes?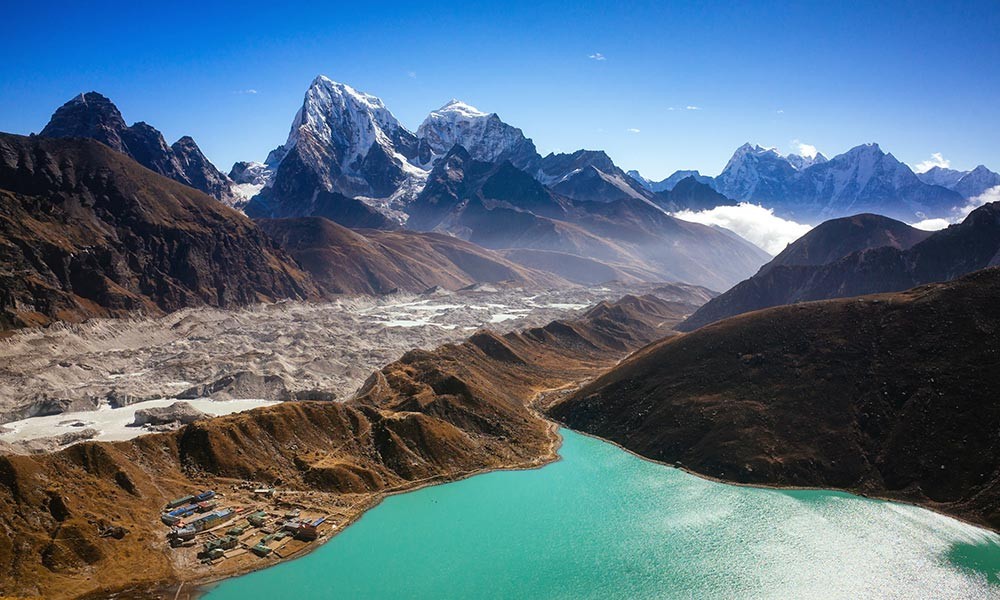 As we stated earlier, having a licensed guide for any treks within Nepal is compulsory, or you may have to abort your journey. Besides that, there are several reasons to have a guide for Gokyo Lakes. Some of them are:
Expert Navigation and Route Knowledge
Guides have a comprehensive understanding of the intricate trail to Gokyo Lakes. They are well known for their ability to navigate through remote and challenging terrain. Guides make sure that trekkers follow the correct path to reach their destination. This allows trekkers to mitigate the possible dangers on the route, like getting injured or lost.
Moreover, guides are acknowledged with the landscapes of the Gokyo region. With their expertise, you can reach the best viewpoints, shortcut ways, and the easiest paths to reach the destination. They also offer valuable insights into the potential hazards and obstacles like steep sections, crevasses, or unstable terrain. It can help trekkers to prepare for treks on those sections.
Safety and Emergency Preparedness
Guides are first-hand support while trekking to the Everest region and Gokyo Lakes. If any unprecedented occurs, they can seek medical help and keep you out of danger. Trekkers have to carry their safety measures and first aid kit so that they can use it during emergencies. The high altitude trek to Gokyo Lakes is very potential area for altitude sickness and other related illnesses. Similarly, the rugged and remote routes add more risk to the hike. Looking at these factors, the chances of getting sick, injured, and lost are high. So if you get injured or suffer from altitude sickness, your guide can help you lower the elevation and help you with medication.
Cultural and Local Insights
Guides have extensive knowledge of the local region, so while embarking on the Gokyo Lakes trek, they can provide insights into the culture and lifestyle of people. To reach Gokyo Lakes, trekkers must traverse several traditional Sherpa villages and settlements fueled with the cultural significance of Buddhism. And when you have a professional guide with you, they can help you facilitate meaningful interactions with the local people and community. It helps you to immerse into the local culture and be engaged in cross-cultural activities.
There are several Buddhist monasteries along the way in Namche, Pangboche Monastery, Tengboche Monastery, hundreds of chortens, mani walls, and others. You can learn their significance and history through the help of professional guides.
Accommodation and Logistics Management
Hiring guides have several benefits. Accommodation and logistics management is one of them. When you hire a guide for the Gokyo Lakes trek, they can help you alleviate the burdens of logistic management, allowing you to focus more on your hike and daily activities.
As said earlier, guides have extensive knowledge about the local region. So the state of tea houses, lodges, availability, cost, and services can be known with their help. Besides accommodation, guides are required to obtain permits for Gokyo Lakes Trek. Since Nepal Government and Tourism Board have banned solo trekking in Nepal, you can obtain the required permits through your guide.
Support and Motivation
Gokyo Lakes Trek is a multi-day trekking package that is physically and mentally demanding. So not anyone can reach their destination with less preparation and strategy. Since this trek is physically challenging, some trekkers might feel they cannot continue. During this time, guides can play a meaningful role in motivating the trekkers. As he is always there throughout the trail to help trekkers, there are no worries to be taken so far. However, precautions should be taken accordingly.
Guides can play a vital role in your decision-making and mental preparations. They can facilitate the fruitful consequences that come later after completing the trek. So, listening to guides, instructions, and guidelines to stay healthy and strong during Gokyo Lakes Trek is even better.
You may also like:
Conclusion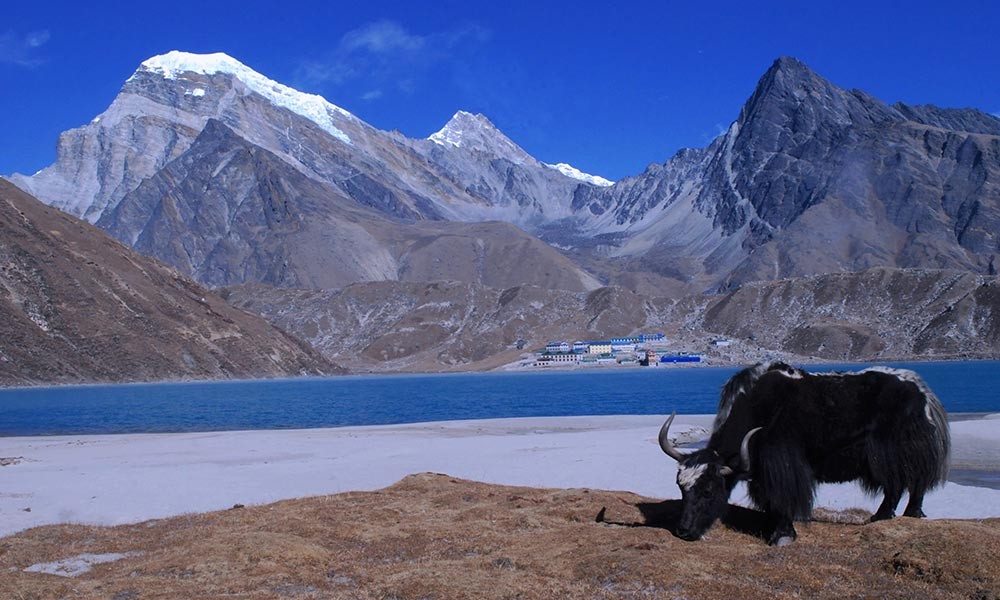 Overall, it is compulsorily required to hire a guide for Gokyo Lakes. With the laws of the Nepal Government and the challenges of the trek, trekkers must be concerned about the possible dangers and risks they might encounter on the route. As they say, 'Prevention is better than cure,' hiring guides can always be fruitful rather than regretting it later. So if your next go-to destination is Gokyo Lakes, remember us to book the package for you. We not only offer personalized packages but also professional guides and porters service. You can make the most out of your journey with their help as they come with the local expertise and knowledge.